Book For Kids: Historical Adventure
An empowering adventure book for kids about female pilots of WW2
An Inspiring Book For Kids
Author Christy Hui introduces her debut novel, Flying Fillies, an adventure story for young adults and the young at heart.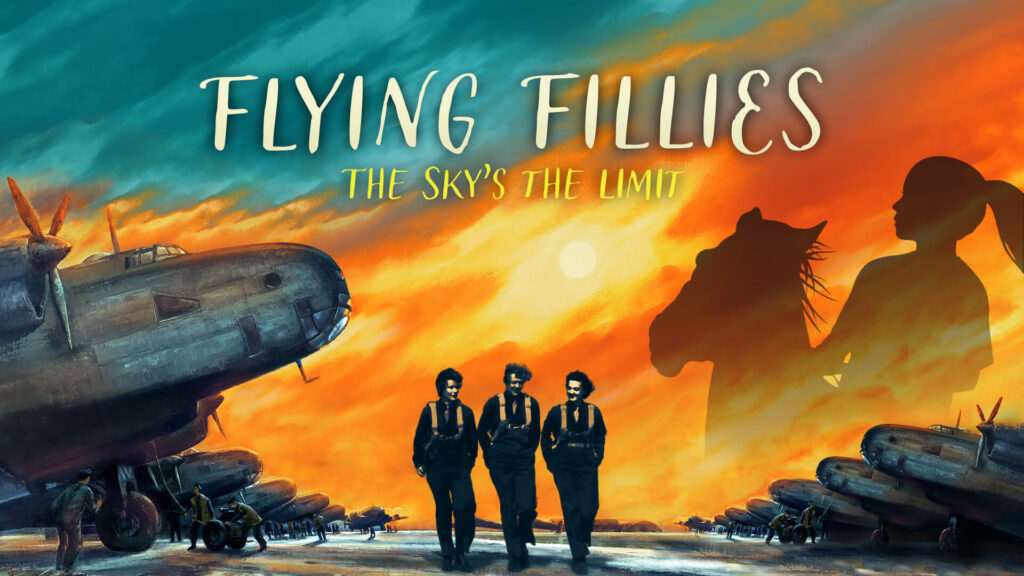 You may have heard of Rosie the Riveter. But have you heard of the WASP of WWII? Inspired by historical events, Flying Fillies introduces readers to the female pilots of WW2.
It was a sleepy Sunday morning when enemy planes appeared above the idyllic island of Oahu, dive-bombing the U.S. fleet and leaving over twenty ships in flames and more than two thousand Americans dead. The U.S. is plunged into World War II!
Defeat would mean a future too horrible to imagine, so every American must play their part, including 12-year-old Dawn Springfield. As if she didn't have enough to worry about. Grieving over her beloved horse, Dawn is coping with moving, starting a new school, making new friends—and enemies. Now she has Hitler to deal with as well.
Undeterred, Dawn volunteers at the nearby Avenger Field, where her aunt Georgia is one of the first to sign up for a revolutionary experiment: the WASPs—Women Airforce Service Pilots. It's not long before women from across America join, eager to relieve their male counterparts needed in combat missions on the battlefront.
Through laughter and tears, triumph and disaster, Dawn watches the WASPs—or the Flying Fillies as she nicknames them—overcome every obstacle and soar to new heights. They show her that girls can dream big and do extraordinary things—for the sky's the limit!
Special Feature: This chapter book includes historical photos generously provided by The National WASP WWII Museum in Sweetwater, Texas, showcasing the WASPs who shattered glass ceilings in the U.S. Air Force eighty years ago!
The Flying Fillies, by Christy Hui, makes for a fun and entertaining read for children ages 8 & up. 
For parents and grandparents, reading Flying Fillies aloud to your young ones is precious family bonding time. "Humdinger!" < That's right, ask granny what that means.>
Young readers will learn about WW2, the WASPs, and what it's like growing up during wartime through Dawn's eyes.
This illuminating chapter book offers middle school kids an engaging way to learn history! Who says history is boring? They just haven't found the right book, yet!
Available also on Amazon in hardcover, paperback, and Kindle eBook.
What Readers Say About Flying Fillies
An Empowering Book For Kids
"Flying Fillies is a top recommendation for libraries … The engrossing history and psychological pull of the story bring the era and its women to life. More so than most other accounts of World War II for young readers, it connects the dots between personal passion and higher-level thinking and life experiences . . . . "
"As an educator, I am always searching for engaging ways to teach factual information, while simultaneously cultivating values such as courage, loyalty, determination, and a commitment to causes greater than oneself. While Flying Fillies teaches us about the amazing…[WASP], it also teaches us to dream big dreams, follow them, and refuse to be limited by our past or by society's expectations. These are the messages our young people need!"
"I read this book together with my 9-year-old twin girls, and they loved it! Told from the perspective of a pre-adolescent girl facing life challenges, seeking role models, and trying to find her place in life, this is a wonderful story of growth, learning, and empowerment that is appropriate for girls and boys alike. I loved that it included lots of historical details that are either little-known or often overlooked. Kudos and many thanks to Christy Hui for bringing us this heartwarming, meaningful, and entertaining story!"
"I read this book as a former educator and a grandmother. . . It captivated me and taught me about the WASPS . . . . This is a book that both girls and boys should read about… these women . . unsung heroes that walk amongst us."
"As I listen to my 9 yr old granddaughter with excitement in her voice relay the beginning story of Dawn as a young girl her love of horses and flying . . . I am so grateful for such a well-written story of the heroic . . . young women pilots during WW11. To hear a nine-year-old say, 'I just love this book,' is music to my ears!!! Well done!"
". . . I'm a bit of a history fan when it comes to WWII, so even though this is billed as a novel for young adults, I enjoyed it because it gives a glimpse into something that isn't covered a lot.... the role women played in the military in WWII. I'm hoping the author continues Dawn's story because there is a ton of potential for future novels!"
"This is a story I knew nothing about, and it is a must-read for my granddaughters. It is beautifully written, and it will expand the idea of what is possible in a girl's future."
"Flying Fillies is a great read. . . . I will buy one for my little niece and for my friends' daughters. Makes a great gift! I love story books that teach about brave women. This is one of the best!!! . . . "
"An empowering and inspirational story, especially for children. . . . The characters are well defined and will resonate with young readers. It deals with some tough issues of growing up in a very positive way. As the mother of two college-age boys now, I think this book is good for both girls and boys. I highly recommend it."
What the press say about Flying Fillies
Adventure Book For Kids About Airplanes, Flying & History
Historical footage shows the WASP trainees undergoing flight training at Avenger Field.
Inspired by the WASP, this adventure book for kids shows a missing chapter of WWII history in the classroom.
Flying Fillies is dedicated to preserving WWII history by providing information in the fields of education and entertainment for children via its website.